Page 1 of 2
SAS generally does not organize standalone conferences, workshops, or networking events. Instead, we focus on finding existing events worldwide and supporting them with organizational assistance, social media promotion, and funding. The Society currently has an official relationship with the following upcoming events regarding co-sponsorship, symposium organization, or an awards program. See the next page for events that we have sponsored in the last five years.
The Great Scientific Exchange 2023 (aka SciX 2023 or FACSS 50): October 8th - 13th, 2023, Sparks, Nevada, USA
As a member society of the Federation of Analytical Chemistry and Spectroscopy Societies (FACSS), SAS is the major supporter of the Art & Archaeology Section at the annual SciX conference. The 2023 conference will be the 50th anniversary of the first FACSS conference. This year, there will be three thematic symposiums in the Art & Archaeology Section: 1) Student Research in Archaeological Chemistry, 2) Historic Perspective and Recent Advances in Art Analysis using Vibration Spectroscopy, and 3) Analysis of Exotic Materials from Mummies to Mars. SAS members are eligible for a $75 discount on the conference registration fee relative to the full price paid by attendees who are not affiliated with a FACSS member society.
Inaugural Australasian Archaeological Science Student Symposium: November 30th, 2023, Virtual with in-person watching "hubs" at The University of Melbourne and elsewhere
SAS is a co-sponsor of this student-organized and -focused symposium and will fund prizes for Best Presentation by an Indigenous or Minority Background Student, Best Presentation by a Postgraduate Student, and Best Presentation by an Undergraduate or Honours Student.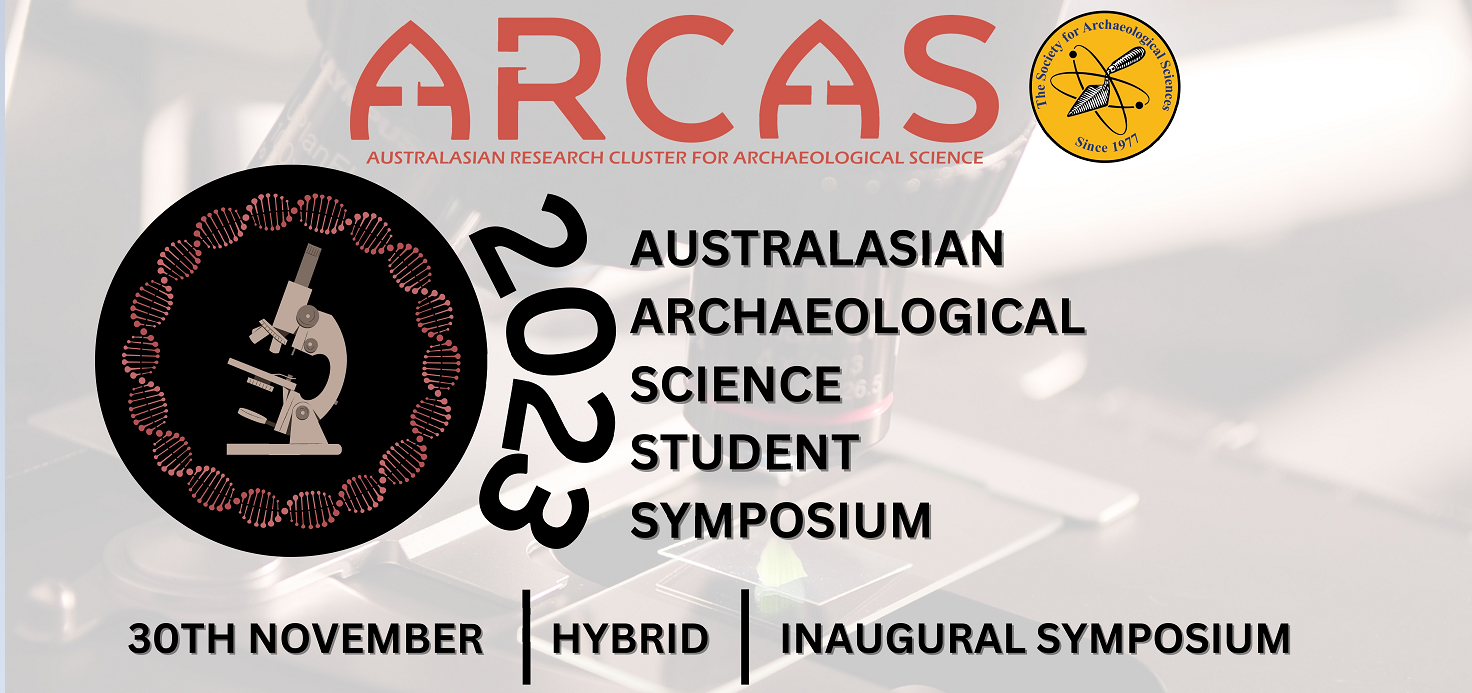 44th International Symposium on Archaeometry (ISA 2024): May 27th - 31st, 2024, The University of Melbourne, Australia
SAS is a co-sponsor of ISA 2024 and a partner of the host organization the Australasian Research Cluster for Archaeological Science (ARCAS). SAS will sponsor the R.E. Taylor Student Poster Award at the conference, as has been the case at past ISA meetings. For the first time, SAS members will be eligible for a 10% registration fee discount at ISA.