Connect with us on social media
SAS Bulletin Staff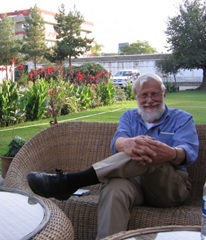 Charles KolbIndependent Scholar (retired NEH), 1005 Pruitt Court, SW, Vienna, Virginia 22180-6429, USA; tel 703-242-0063; email This email address is being protected from spambots. You need JavaScript enabled to view it.
Charlie Kolb holds a B.A. in History with minors in Art History and Anthropology with a focus on Latin America, the Soviet Union and South Asia) from The Pennsylvania State University and earned his Ph.D. at Penn State in Anthropology and Archaeology focusing on, Latin America and Central Asia. He did additional graduate and post-graduate coursework and directed study at Bryn Mawr College (geology), The Pennsylvania State University (geology), Argonne National Laboratory (environmental studies), Rochester Institute of Technology/Image Permanence Laboratory (still and moving images, chemistry), International Museum of Photography (imaging science), Georgia State University (audio preservation), Society of American Archivists (still images and recorded sound), Cornell University (digital imaging), National Archives and Records Administration (digital library collections management), and University of Texas-Austin (recorded sound preservation). From 1966-1989 he taught undergraduate and graduate courses in archaeology, ethnology and physical anthropology at Penn State (University Park and Erie campuses), Bryn Mawr College, and Mercyhurst University. Kolb also served as a board member of the Pennsylvania Humanities Council (1979-1989) and Director of Research and Grants at Mercyhurst where he was also assistant director of the Hammermill Library.
His archaeological and ecological field work was in Mesoamerica, Central Asia, and Northeastern North America, and East Africa. Kolb has studied ceramics since 1962 and organized and chaired 25 annual Ceramic Ecology Symposia at the American Anthropological Association meetings 1985-2011. Since 1965 he has written 6 monographs, 138 articles (102 peer-reviewed), 27 articles and book chapters (peer reviewed), 756 book reviews (print and Internet in 68 different professional publications), 14 film reviews (anthropology), 21 Internet site reviews (anthropology and history), 26 CRM reports to sponsors (archaeology), 32 technical or consultant reports (archaeology), and prepared written 63 encyclopedia contributions. He conducted CRM studies in the US for USDA Forest Service, Argonne National Laboratory, and US Department of Energy, and been honored by two festschriften.
Kolb served as senior program officer at the National Endowment for the Humanities (1989-2013). At NEH he was responsible for research and development grants and projects for preserving and providing intellectual access to still and moving image and recorded sound collections. He also worked on the National Digital Newspaper Program with the Library of Congress and advised on material culture collections (history and archaeology), environmental controls, and collections; storage and rehousing. Kolb also had responsibility for the Endowment "Recovering Iraq" and "Rediscovering Afghanistan" initiatives (2004-2011). He was a consultant for the University of Chicago's Oriental Institute and currently for agencies of the US federal government, including ICE (antiquities assessments). His particular interests continue to be materials science - especially ceramics; archaeology, ethnology, and ethnohistory; military, naval, political, and diplomatic history; cartography; demography; and pedagogy.