Associate Editor, Archaeological Pigments - Roxanne Radpour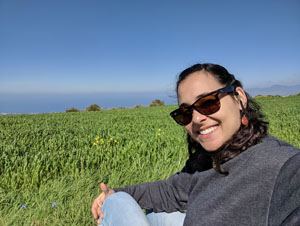 Roxanne Radpour, Archaeomaterials Group, Materials Science and Engineering Department, University of California, Los Angeles, Los Angeles, Ca 90034, USA, email This email address is being protected from spambots. You need JavaScript enabled to view it.
Roxanne Radpour is a Materials Science and Engineering Ph.D. candidate in the Archaeomaterials Research Group at UCLA. She received her B.S. in Physics from the University of California, San Diego, and her M.S. in Physics from the University of Minnesota, Twin Cities. Her current research is an exploration of imaging and chemical sensing tools for archaeometry, especially for non-invasive, in situ materials characterization. These techniques range from forensic photography, portable XRF, and reflectance spectroscopy to applications of imaging spectroscopy. She is also interested in the use of novel analytical approaches and 3D visualizations to better understand the use and distribution of painting materials in ancient objects and spaces.
As a Fulbright recipient and with the support of the Cyprus American Archaeological Research Institute and the John Anson Kittredge Fund, Roxanne performed multiple field campaigns in Paphos, Cyprus to analyze archaeological wall paintings. She has also analyzed ancient funerary mummy portraits from various museum collections. These studies focus on the materials, production technologies, and practices of ancient artists to provide insight into the ancient world.