The first session concerned the evolution of the technique in the last decade, focusing on the use, advantages and disadvantages of the methods mostly used for the quantitative analysis of XRF data. Arlen Heginbotham presented his valuable work on the CHARM (Cultural Heritage Alloy Reference Material) set of standards quantitatively analysed with PyMca, an open-source software based on the use of the fundamental parameter method. Angelo Agostino presented BAxil, a recently upgraded software for a user-friendly analysis of the spectrum. Moving onto training, Karen Trentleman and Lynn Lee presented their experience with the 'XRF Bootcamp for conservators' organised at the Getty Museum in 2014, providing engaging and essential suggestions on the necessity of assessing the level of the attendees and providing an initial training to people new to the technique.
The second session focused on identifying specific research topics that need to be explored or implemented. The first issue discussed was the presence of patinas in copper alloys with insightful presentations by Simone Porcinai on organic patinas and Agnese Benzonelli on artificial patinas. The thought-provoking discussion that followed highlighted the presence of two different topics requiring clarification: the thin, natural or artificial, organic or inorganic patinas found in museum objects and the thicker corrosion layers typical of archaeological objects. Then, the attendees examined the fundamental parameters approach and the need for improved characterization of X-ray tube output, before hearing from Armando Solé on new developments on PyMca.
Presentations in the third session demonstrated the successful use of an XRF database in advanced statistical and machine learning analysis. These included Arlen Heginbotham on dating gilt bronzes with machine learning, Arie Pappot on copper provenancing, Dylan Smith on Renaissance Bronzes and Ray Liu on Oxford's FLAME database. The session ended with astute and constructive contributions from Lee Drake on the principles and potentiality of machine learning analysis performed on a large database.
Future work will include the calibration of our instrument with the same set of standards (CHARM set) to create a network of instruments with shared calibration that will greatly improve inter-laboratory reproducibility, allowing an exchange of data with comparable values between researchers and promote collaborative study. Similarly, the meeting provided the basis for creating a database which, once developed, will allow large bodies of reliable quantitative results to be shared.
The meeting revealed a significant shift towards radical change in the approach to data analysis, moving from the application of complex algorithms to statistical analysis through machine learning of many measures based on a huge and robust database. The round table set up standards for the use of portable x-ray fluorescence in archaeology and conservation, which will have a profound impact on the discipline in the next decade.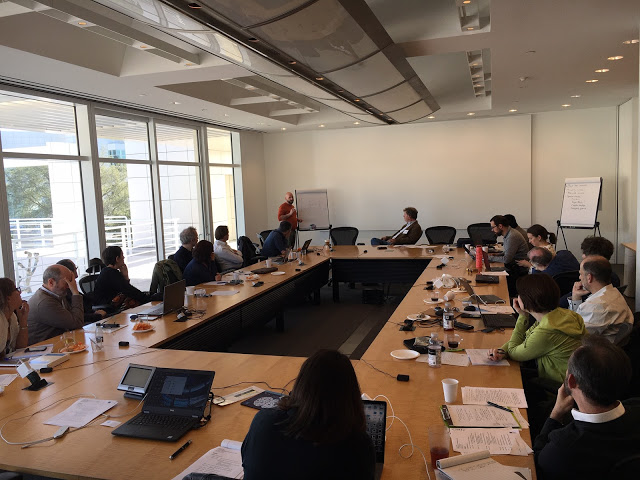 Some roundtable discussion (Photo courtesy of Agnese Benzonelli).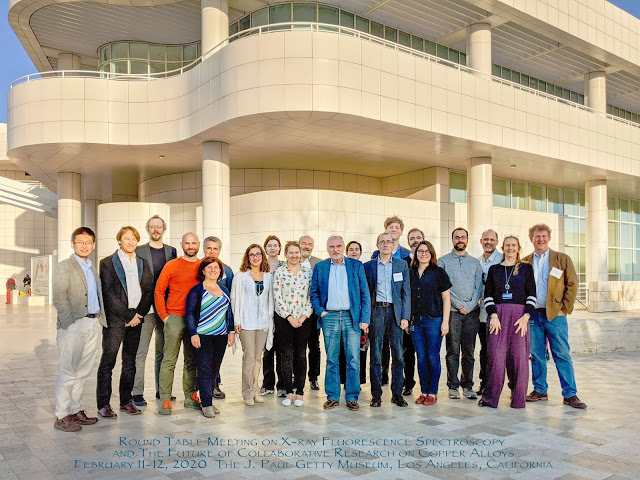 The participants of the XRF roundtable discussion (Photo courtesy of Agnese Benzonelli).